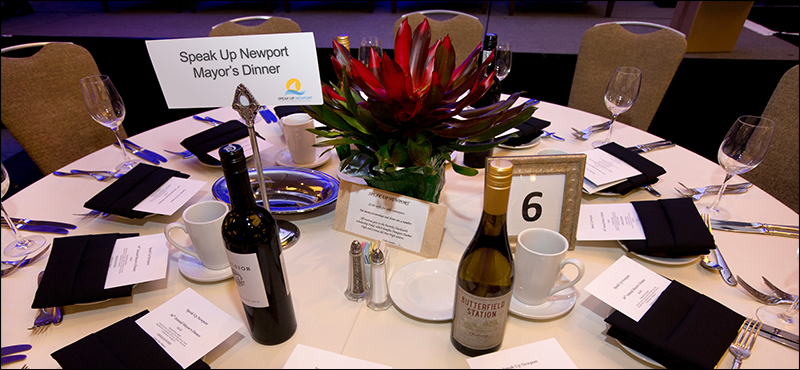 Thirty-Seventh Annual Mayor's Dinner
Each February, the Speak Up Newport (SUN) Board of Directors presents the Annual Mayor's Dinner, which is attended by more than 450 Newport Beach business and community leaders. The event allows attendees to renew old friendships, establish new relationships and visit with local dignitaries. It will be covered by the local press and videotaped and replayed several times on local Newport Beach cable channels.
Click Here to download the 2018 Event Flyer. (Requires Acrobat)
Click Here to see the Photo Gallery for the 2017 Event.
Event Details
Thirty-Seventh Annual Mayor's Dinner
Newport Beach Marriott Hotel & Spa
900 Newport Center Drive, Newport Beach
Friday, February 2, 2018
No-host Reception: 6:00 PM | Dinner: 7:00 PM
This event sells out every year and seats will be allocated per the Mayor's Dinner Committee and submission time.

The 2018 Event is SOLD OUT!
Underwriter's Table - Seats 10 - $1,200.00


As an underwriter your organization will be reserved a table, your company's name will be listed on the program, your company will be thanked from the podium and your table will have an identifying sign. Your company's designee will receive a one-year paid sustaining membership to SUN. If your reservation is reserved early enough, your company will be listed as an Underwriter in our ad in the Daily Pilot.

Individual Seats - $85.00


Individual Seats are available on a limited basis.
2018 SUN Board of Directors
Debra Allen, President
Edward Selich, Vice President
Hugh Logan, Secretary
Marie Marston, Treasurer
Jeff Boyles, Jeff Brouwer, Janis Dinwiddie, Diane Dixon, Robyn Grant, Kathy Harrison, Rush Hill, Richard Luehrs, Joe Stapleton, Kay Walker, Rhonda Watkins
Honorary Directors
Jan Debay, Paula Godfrey, Dave Goff, Evelyn Hart, Marilee Jackson, Caroline Logan, Carol McDermott, Mary Petropoulos, Dayna Pettit, Val Skoro, Don Willet, Darryl R. Wold, Pat Zartler
Sustaining Members
Janis Dinwide, Joe Stapleton, Richard Luehrs, David Sean, Jeff Boyles, Scott Cunningham, Sebastian Moshayedi, Clifton Jones, James Parker, Phillip Greer, Arlene Greer, Debra Allen, Robyn Grant,
Kathleen P. Harrison, Rush Hill, John & Lori Petry, Paul Blank, Don Krotee, Dennis Baker, Scott Barr, Edward Selich, Catherine Kennedy, Patricia Moore, Mary Petropoulos, Tod Ridgeway, Kathy Leek,
Diane B. Dixon, Carol McDermott, Jim Roberts, Michael Toerge, David Goff, Marilee Jackson, Michael and Kim Henn, Jeff Brouwer, Paula Godfrey, Philip F. Bettencourt, Buck Johns