Sea Level Rise - How Will It Affect You?
Newport Bay waters spilling over Balboa Island seawall
No matter what your opinions are on climate change, the fact is that the sea level is rising. In recent years, both Balboa Island and portions of the Peninsula have been inundated with sea water during the winter King Tides, reaching up to a foot higher than the tide tables. Although not new, higher tides are occurring more frequently each year. Just because you do not live on Balboa Island or the Peninsula does not mean you won't be affected—even in Newport Coast.
Speak Up Newport is presenting a forum with a panel of experts on the subject. Jim Campbell of the City Planning Department will describe what plans the City has for dealing with sea level rise and how it will affect all City residents. Robert Stein from the Public Works Department will explain the projects, including the Balboa Island Sea Wall project, which the City is planning to construct in both the near and long term. Brett Sanders and Jochen Shubert from the UCI team that's creating the hyper-local flood maps for Newport Beach will present observations from their studies on sea level rise in the City. Such computer models eventually will be able to simulate flooding down to individual houses.
Come and ask questions, and learn more about this topic, which is important to all coastal residents.
---
Meeting Details:
Civic Center Community Room
100 Civic Center Drive
Newport Beach, CA 92660
(949) 224-2266
Wednesday, January 10, 2018
Reception: 5:15 PM | Meeting: 6:00-7:00 PM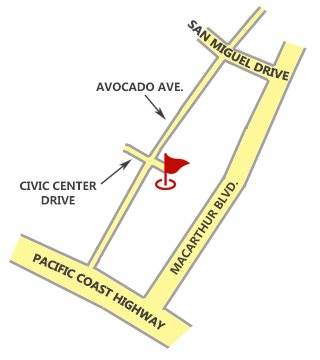 ---
---
Civic Center Drive intersects Avocado, between Pacific Coast Highway and San Miguel
The Community Room is on the right (directly across from City Council Chambers) when you enter the complex on Civic Center Drive. Parking is available in the Parking Structure and in the parking lot adjacent to the structure.
There's no charge to attend. Please bring your neighbors and friends. Guests are always welcome.
To download the flyer CLICK HERE - Requires Adobe PDF
To see the Google Map CLICK HERE.