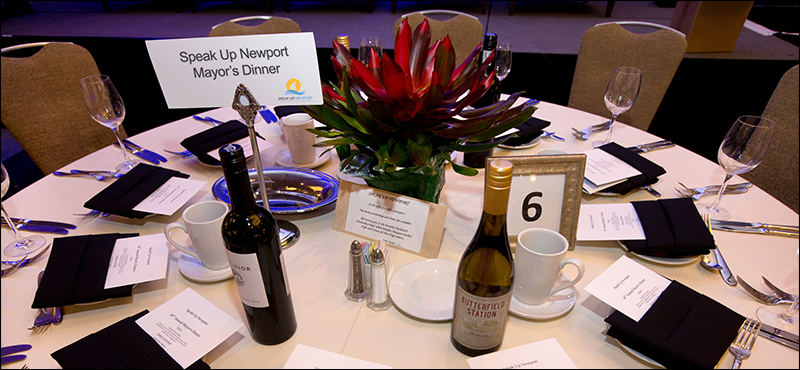 Forty-First Annual Mayor's Dinner
The 41st Annual Speak Up Newport (SUN) Mayor's Dinner will be held on Thursday, February 9, 2023 at the VEA Newport Beach Hotel.
Each year, SUN presents the Annual Mayor's Dinner, which is attended by more than 450 Newport Beach business and community leaders. The event is covered by the local media and videotaped and replayed several times on local Newport Beach cable channels.
This year's event will honor the 2023 Newport Beach Mayor, Noah Blom, who was selected at the December 13th City Council Meeting. Mayor Blom will give the annual State of the City Address.
The evening's Master of Ceremonies will be KCAL 9 and CBS 2 Orange County reporter and Newport Beach resident Michele Gile.
The event will include a special recognition of the City's past mayors.
"SUN's Annual Mayor's Dinner is an opportunity for the community to come together to celebrate friendships and visit with local dignitaries", said SUN President and former Newport Beach Mayor Edward Selich.
Event Details
41st Annual Mayor's Dinner
VEA Newport Beach
900 Newport Center Drive
Newport Beach, CA 92660
February 9, 2023
No-host Reception: 6:00 PM | Dinner: 7:00 PM
Single Seat - $125 per person
Single Seats are Sold Out.
Underwriter's Table - 10 seats - $1,750
RSVP by January 29, 2023
CLICK HERE to purchase tickets on-line.
CLICK HERE to download a mail in check form.
Click Here to see the Photo Gallery for the 2022 Event.
Click Here to see the Photo Gallery for the 2020 Event.
Click Here to see the Photo Gallery for the 2019 Event.
2023 SUN Board of Directors
Edward Selich, President
Kay Walker, Vice President
Hugh Logan, Secretary
Marie Marston, Treasurer
Debra Allen, Diane Dixon, Robyn Grant, Rush Hill, Ashley Johnson, Tony Petros, Steve Rasmussen, Joe Stapleton, Kay Walker, Rhonda Watkins
Honorary Directors
Dave Goff, Kathy Harrison, Marilee Jackson, Caroline Logan, Carol McDermott, Mary Petropoulos, Pat Zartler