Meet the New Chief of Police
Newport Beach Welcomes Chief Jon T. Lewis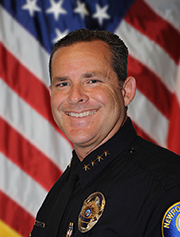 On March 22, Chief Jon T. Lewis was sworn in as the tenth Chief of Police of the Newport Beach Police Department, taking the reins from retiring Chief Jay R. Johnson in a smooth transition of leadership. Chief Lewis has spent his entire career in the NBPD, starting as a Cadet in 1991 and holding every rank in the Department. Join us to learn more about Chief Lewis and the future of the police department under his command. Join us to learn more about Chief Lewis and the future of the Police Department under his command. Moderator and SUN Board Member NBPD Deputy Chief David McGill will lead this informative and insightful discussion with our new Police Chief.
Topics of discussion to include:
What did the life history of Chief Lewis look like prior to his employment with the NBPD, and what are the highlights of his career at the NBPD?
What are his vision and goals for the NBPD moving forward?
What are the most significant law enforcement issues facing the United States, California, Orange County, and Newport Beach in the next several years?
You don't want to miss this program! Come with your questions.
Wednesday, June 8th, 2016
Reception 5:30 PM | Program 6:00-7:00 PM
Civic Center Community Room
100 Civic Center Drive
Newport Beach, CA 92660
(949) 224-2266
Intersects Avocado, between Pacific Coast Highway and San Miguel
The Community Room is on the right (directly across from City Council Chambers) when you enter the complex on Civic Center Drive. Parking is available in the Parking Structure and in the parking lot adjacent to the structure.
There's no charge to attend. Please bring your neighbors and friends. Guests are always welcome.
To download the flyer CLICK HERE - Requires Adobe PDF
To download the Media Advisory CLICK HERE - Requires Adobe PDF
To see the Google Map CLICK HERE.